We, the Perau-Gymnasium, are proud to have signed a partnership contract this school term with the SEZ AG Villach, after similar partnerships with OMYA and CA in 1992 respectively 1995.



The SEZ Group develops, produces and markets equipment for the semiconductor industry and concentrates on the production of wet-etching equipment for processing the frontside of wafers. Its customer list includes leading world semiconductor manufacturers such as Siemens, Toshiba, IBM SGS Thomson etc.

The development of the SEZ Group is a true success story of the sort usually only to be found in US reports. In 1986 Egon Putzi and Franz Sumnitsch founded SEZ in Bad Bleiberg. Already in 1990 the first "spin-etchers" were being sent to European semiconductor manufacturers. In 1992 SEZ moved into new premises in Villach, Draubodenweg 29. Subsidiaries in USA and UK were established, a joint venture in Japan followed and strategic alliances were formed in Taiwan, South Corea, Singapoure and France.



Well-developed teamculture is one of the main reasons for the SEZ Group's success. Teamwork and high motivation are also the characteristics of the Perau Gymnasium's school choir under FOL Fritz Strehlow. That is what deeply impressed Peter Grünwald, plant manager of SEZ Villach (both his daughters attend our school and are choir members!) Therefore, this year, our school choir has found a generous sponsor! Thank you very much! In return our choir wil1 be glad and ready to accompany and contribute to SEZ events.

The SEZ Holding AG, Zürich, has been listed on the Swiss Exchange since November 1996. This quotation on the exchange should guarantee the necessary financial means in order to expand from the leading position in technology in the semiconductor market to the leading position in the world market. This process of going public included an extensive share of company employees; nearly all SEZ employeds are also SEZ shareholders and the shares experienced a growth as rapid as the company itself.

The SEZ Group's operational headquarters remain in Villach with about 180 highly motivated employees. Permanent on-going training, personal responsibility and teamwork are the key factors in SEZ management philosophy.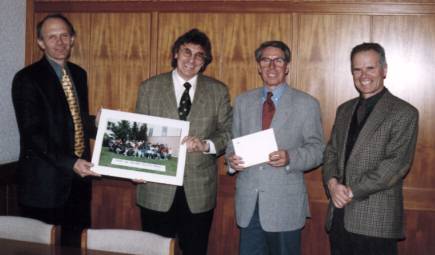 Koschutnig, Grünwald, Strehlow, Zebedin



This concept of on-going training and development is a goal shared by both SEZ and our school. We hope the permanent exchange of ideas with the young will consolidate this partnership and lead to new and challenging paths to be followed together by school and industry.

Here and now we want to say thank you again to Mr Peter Grünwald for his engagement in developing this partnership!

Prof. Kurt Koschutnig, coordinator