At the end of June 1999, I had the privilege and the pleasure of being invited to spend 3 days doing six theatre workshops at the Perau Gymnasium. I'd hate to single out any one group, because all six were terrific, each in its own, individual way.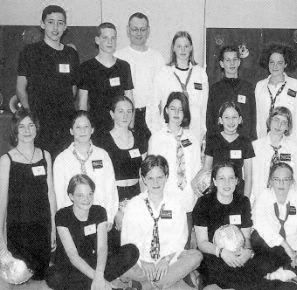 We covered the spectrum from the second to the sixth class, from being hyperactive animals at the zoo to plumbing the heart-breaking deapths of Tennessee Williams' "The Glass Menagerie".
On each occasion we set off on a journey of expression, of communication, of experience and of self-presentation that took us far beyond the classroom walls. On each occasion we travelled far along the way of new discovery.
Whenever I visit your school l am impressed by the spirit of openness, of tolerance, of innovation, of humanity that spread from the very top to the farthest corner. My compliments to you all, teachers and pupils alike, on your achievement.
See you next year!
Nicholas Allen