Sunday, June 6th
We (Prof. Heidrun Miklautsch, Prof. Birgit Zechmann-Ramsauer, Mrs Eva Majdic, 19 boys and 2 girls) met at Klagenfurt airport. Most of us were very excited. Our plane took off at 12:45. The flight was great and we had a beautiful view. We arrived at London Stansted at 13:50. There we met Mark, our local coordinator. From Stansted we took the coach to Cambridge where we met our host families. Later in the afternoon we got our bikes and our cycle helmets.

Monday, June 7th
In the morning we went to a park. There this photograph was taken.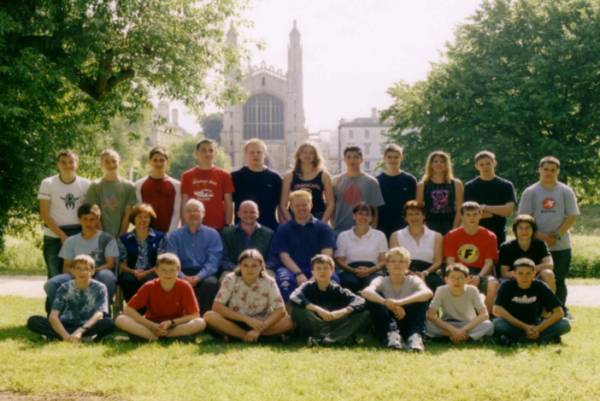 Then we cycled to the Corn Exchange, right in the centre of Cambridge. There we had classes almost every day. Andy, our teacher, was very friendly and patient.
As it was very hot, we went punting on the river Cam. This was really great fun!
In the afternoon Mark and Prof. Miklautsch took us on a sightseeing tour and we climbed up St. Mary's. From there we had a wonderful view of Cambridge.
We started interviewing people for our projects.
In the evening we had a lot of fun at the "Laserquest".

Tuesday, June 8th
We had classes in the morning and it was very hot!!!
We did some sports in the afternoon.
In the evening we went to the cinema. We saw "The Day after Tomorrow". It was very interesting.

Wednesday, June 9th
Our first trip to London! The weather was beautiful. This is what we saw in London:
Trafalgar Square – Downing Street - Westminster Abbey – the Houses of Parliament – Big Ben – Westminster Bridge – the Thames – the London Eye (we really enjoyed that!!!) – the Tower – Tower Bridge – the London Dungeon (rather frightening) – Hyde Park
When we went back to Cambridge, some of us were really tired!

Thursday, June 10th
We had classes in the morning. In the afternoon Mark showed us how to play cricket and rounders.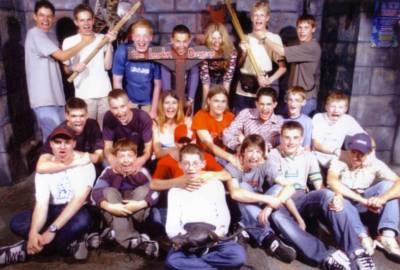 In the evening we played football/soccer.

Friday, June 11th
It was a very exciting day. We finished our projects. At 11 o'clock we started with our project presentations. We all tried very hard and were very nervous. At lunchtime we watched a real cricket match and after that we played cricket ourselves. In the evening we went to a new bowling centre.

Saturday, June 12th
Our second trip to London! Our London programme: the Science Museum (very interesting, spent some hours there!) – Piccadilly Circus – Chinatown – Green Park – Buckingham Palace (We actually saw the Queen there!!!) – Baker Street – Mme Tussaud's (This museum was really fascinating!) – St. Paul's Cathedral – the new footbridge to the New Tate Gallery – "the budgie man" – train journey back to Cambridge. In the evening we packed our suitcases.

Sunday, June 13th
We met at 6:30 in the morning and took the coach to Stansted airport. Stansted is a huge airport with more than 100 gates!
We had a smooth flight home and arrived at Klagenfurt airport at 12.20. There we met our families again.

We all think that it was a very funny and exciting week that we will never forget.
Thank you Frau Prof.Miklautsch.

Andreas Steinwender, Nikolaus Majdic, Marie-Theres Telsnig,
Andreas Matulke, Oliver Pototschnig, 4.A